Tutorial: Adding Your Listing
I. Register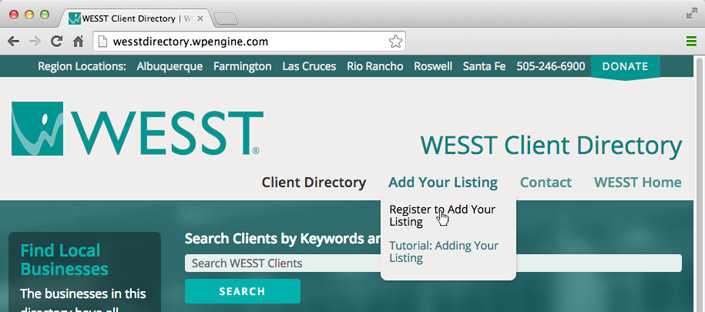 The first step is to submit the registration form. Your registration must be approved before you can login and create your listing.
If you've already submitted your registration information and received an email stating that you're approved, you can login and create a business listing. If it's been more than 8 business hours since you submitted your information and you have not seen an email, please check your spam folder for emails that have come in since your submission. If you cannot locate the email, please contact us and we will call you (be sure to include your phone number).
II. Create your Listing
1. Login


After your registration is approved, login via the link in the footer, which will take you to the login screen. After logging in using the username and password sent to you in the approval email, PLEASE CHANGE YOUR PASSWORD (via the "Profile" link in the admin bar; see below). An emailed password is potentially compromised, and a new password will help protect your profile from defacement.
2. Add New Client Listing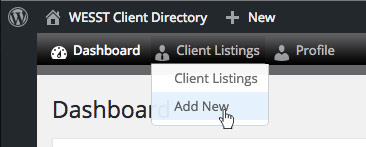 Select "Add New" under the "Client Listings" item on the admin bar.
3. Business Name

Add your business name. Please note the "Save Draft" button to the right. Remember to use it before leaving the client listing screen for any reason.
4. Upload Logo

Before uploading your logo, make sure it is a jpg or png file, and that it is no less than 150 pixels wide, no more than 400 pixels wide. Images not meeting these criteria will be refused by the upload application.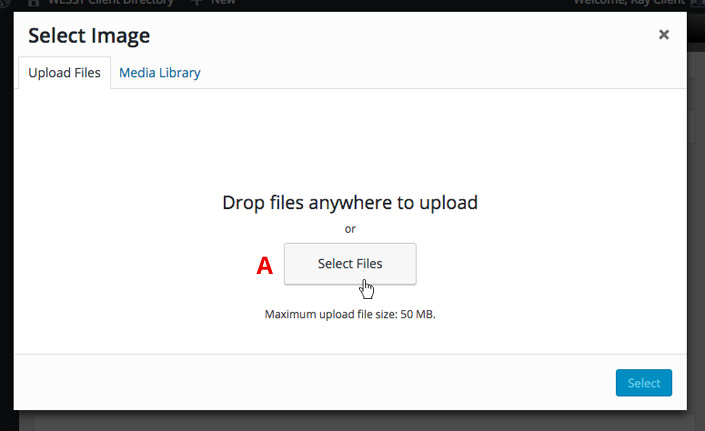 Click on "Select Files" (A) and navigate to your logo image on your computer. On selection, the file will upload.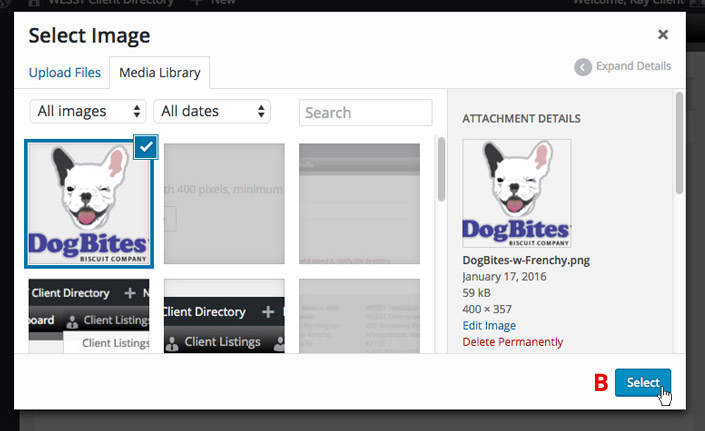 When the file has completely uploaded, click the "Select" button (B) in the lower right corner.
5. Business Address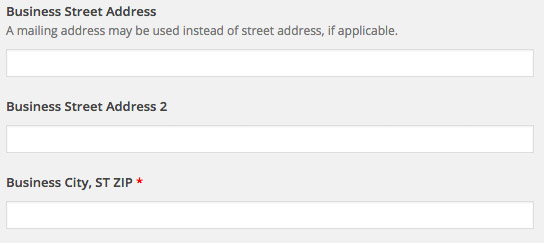 Complete the address fields (please use the standard 2-letter abbreviation for the state, i.e., NM)
6. Business Phone

You must have one phone number, and can add up to two more by clicking the "Add Phone" button.
7. Website Address

Add your website URL, starting with http://
8. Business Hours

Enter your normal business hours, if applicable.
9. Owners/Customer Contacts

You must list at least one owner or customer contact, with title. You can add up to three more by clicking "Add Owner/Contact."
10. Business Category

Select the business category that most closely fits your business. If you believe a category should be added, let us know when you email us that your listing is ready for publication.
11. Closest WESST Region

Select the WESST Region office closest to you, or the office you worked with as a client.
12. Business Description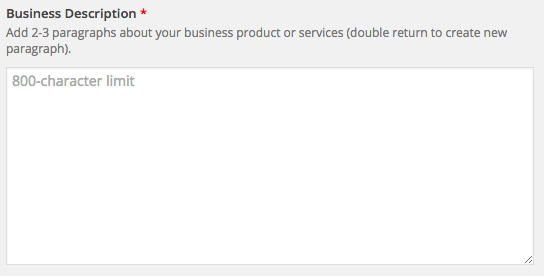 The Business Description is your opportunity to tell people what your company does and what makes it unique. Use up to 800 characters, which is a couple of paragraphs, normally.
13. Keywords

Add words or phrases that people looking for your kind of business might use in a search.
14. Add your contact info and Submit for Approval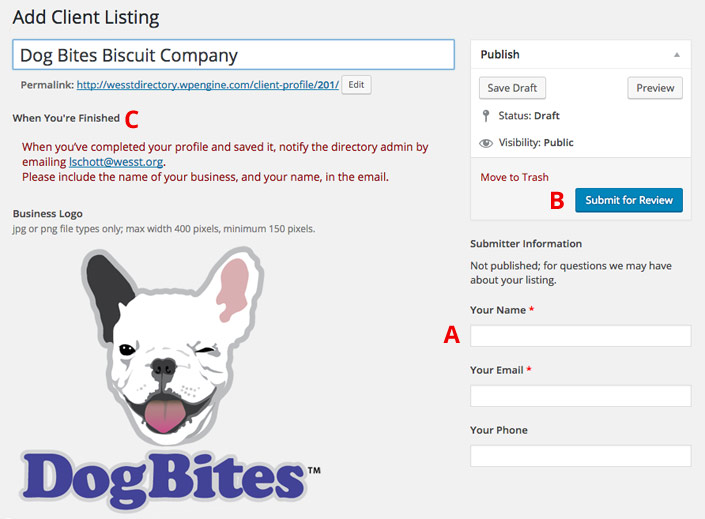 Finally, click "Save Draft." If you're finished, add your name, email and phone (A), click "Submit for Review" (B), and then (C) email the admin that your profile is ready for publishing.