Frequently Asked Questions
What is the WESST Client Directory?
This is a new and innovative way to help our small business clients easily share key information about their business, allowing them to quickly engage with a new audience of other WESST clients and supporters.
Our clients represent a myriad of different industries and service offerings, and our goal is to connect those who believe in WESST's mission and encourage WESST clients and supporters to do business with other entrepreneurs in our network throughout New Mexico.
Why do I need to register to add my listing to the WESST Client Directory?
There are a few reasons why we require you register before creating your client listing.
First, we want to ensure that everyone listed in the Client Directory is a WESST client.
When you register you create a user name and password that helps us identify who you are and communicate with you as necessary.
The secure login process to access your account ensures that your information can not be changed and will keep other people from logging into your account and pretending to be you.
I can't remember my password, what do I do now?
Please contact the WESST Client Directory Administrator at 505-246-6939 or by sending an email to lschott@wesst.org to reset your password. 
Can I change my password?
Yes, you can change your password via the "Profile" link in the admin bar.

You can also update via the "Edit My Profile" link in the upper right corner of the admin bar.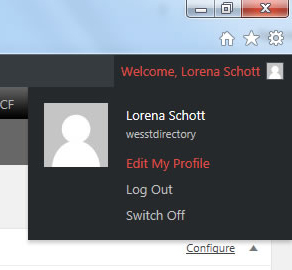 Now that I've registered and been approved, how do I create my listing?
Log into the client directory using the username and password you created.  You can find the login link on the bottom right corner of the Client Directory web page.

I've logged in to create my listing, but can't see the WordPress Admin bar  (black bar towards the top) as indicated in the tutorial, what do I do now?
This is a common issue. After logging in select the "Admin" link in the footer (next to the Log in link).  This will take you to your dashboard where you can access your user profile and client listing.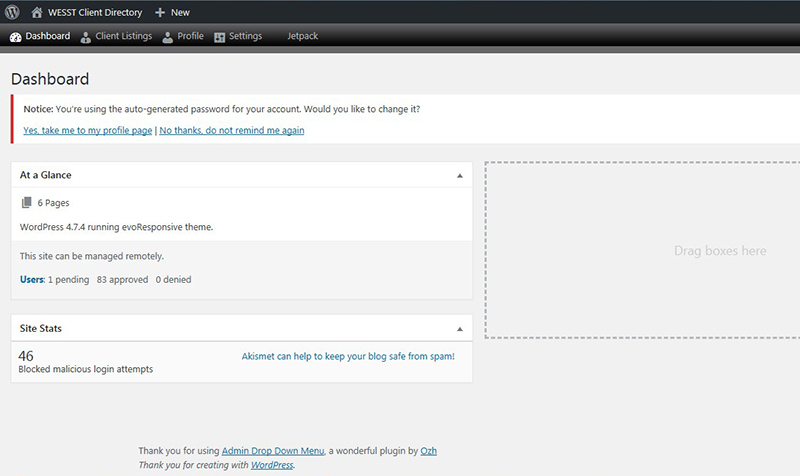 Who do I contact if I have any questions or need help creating my listing?
Please contact the WESST Client Directory Administrator at 505-246-6939 or by sending an email to lschott@wesst.org