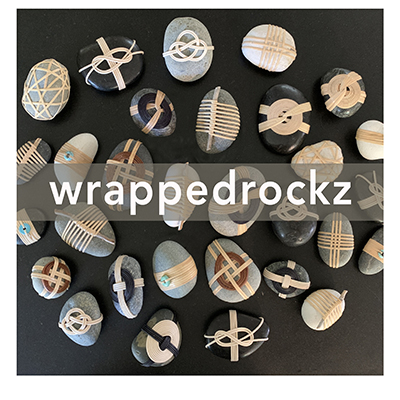 Santa Fe Region

Betsy Bauer Studio / Wrappedrockz

Category
Consumer Goods and Services
Contacts
Betsy Bauer Owner
Location
Mailing address only: 66 TWO TRAILS ROAD
Santa Fe, NM 87505
Website
https://www.wrappedrockz.com/
Hours
Mon - Fri 9am - 5 pm
Inspired by the drama of the primal rock landscape of the Southwest and her Zen Buddhist practice, artist Betsy Bauer crafts her Wrappedrockz sculptures using stones she collects from ancient dry riverbeds in New Mexico and from far flung places she visits on her travels.
Not all rocks are created equal. Betsy carefully hand picks rocks with unique shapes and variations in color and texture, and transports these back to her Santa Fe studio. Here, she wraps each specimen in natural cane, fusing ancient Japanese basketry techniques with contemporary design elements from the Southwest, including turquoise beads and semi-precious stones.
Simple and symbolic, wrappedrockz are designed to be used many ways. Gift them to friends or family to commemorate a special occasion or to remember loved
KEYWORDS: sculpture, rock art, santa fe artist, holiday gifts, zen stones