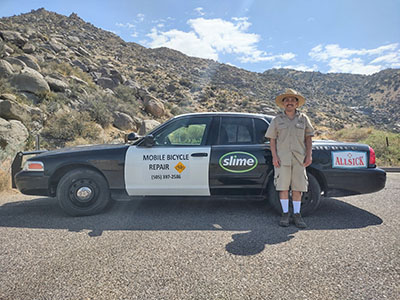 Albuquerque Region

Bosque Mobile Bicycle Repair LLC

Category
Consumer Goods and Services
Contacts
Frankie Soto Owner
Location
PO Box 40664
Albuquerque NM 87196
Website
https://www.bosquemobilebicyclerepair.com/
Hours
Monday through Sunday 8:00 am to 6:00 pm
A mobile bicycle repair service that can go to you. Don't load and transport your bicycle to the bike shop. Don't make 4 trips. Call Now or Book Online! House calls, residential service, and repairs done in the field. On the bike path and trails. I am a repair service business only, not a retail store. I do not sell bicycles and accessories. Recommend products without a conflict of interest. I only make money off of installation and repairs. I have tubes, brake pads, cables, grips, tires and other small service parts. It doesn't matter what kind of bicycle you ride or your level of experience. Providing quality and detailed repairs. Repairs are done at your location saving you time, so you can spend more time riding. Fast, Convenient, and Reliable. Mileage costs depend on location.
KEYWORDS: Bicycle Mechanic Bike Shop Bicycle Tune Up Cycling