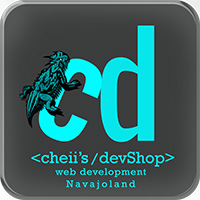 Farmington Region

Cheii's Web Development Shop

Category
Business Services
Contacts
Ryan Sam Web Developer GJ Gordy Web Developer Marty Buck Web Developer
Location
1255 Mission Ave
Farmington
Website
http://cheiiswebdev.com/
Hours
Mon.-Fri., 8 am-5 pm
We are a new, fresh, all Navajo web development company located in beautiful Farmington, NM. The land of Enchantment. In today's ever- evolving market technology is a MUST for any reputable and/or growing business that is wanting to be competitive in their industry for their clientele. Here at Cheii's Web Development Shop, we have dedicated staff that has knowledge in all areas of web design services. We strive to provide the best possible results for any and all web based business problems. We want your company to stand out from ALL the rest to make a GREAT first impression to anyone that visits your site. Let Us Help You Tell Your Story!
KEYWORDS: Website Design, Graphic Design, Web Development, Web Designer, Web Coding