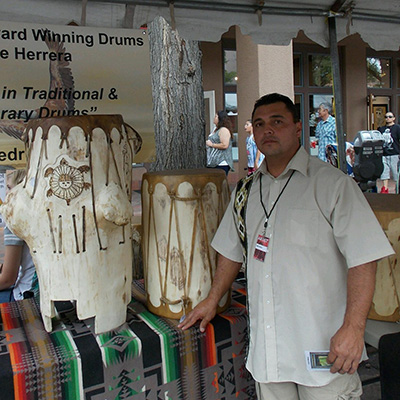 Santa Fe Region

Eagle Drums

Category
Consumer Goods and Services
Contacts
Gilbert Eagle Herrera Owner
Location
PO Box 192
Cochiti Pueblo, NM 87072
Website
http://www.eagledrums.com
Eagle carefully selects Aspen trees from the Jemez Mountains above 9,000 feet, which enables him to create traditional drums in the Pueblo of Cochiti. In the Native American traditions, the drum is a necessity as set forth by ancestors; many traditional cultural events engage the message of drums and drummers. Each drum is hand-crafted. The art of drum making takes time. They are created for traditional use and also for the tourists who tend to purchase the drums for bragging rights back home. Other Pueblos which do not create their own drums use Cochiti Pueblo's renowned drums in pueblo ceremonies or as a gift for a loved one. Eagle stresses that his artwork is part of him. The creation allows him to leave the urban life to spend time with his ancestors and animals that he dearly loves.
KEYWORDS: Native American drums, ceremonial drums, hand-made drums