Santa Fe Region

Española Valley Fiber Arts Center (EVFAC)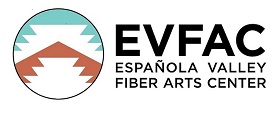 CATEGORY
Consumer Goods and Services
CONTACTS

April Jouse, Director of Operations

Olimpia Newman, Director of Development

LOCATION
325 Paseo de Oñate
Española, NM 87532
PHONES

505-747-3577 cell

WEBSITE
http://www.evfac.org/
HOURS
Tue.-Fri. 10am - 5pm
The Española Valley Fiber Arts Center (EVFAC) is dedicated to growing the appreciation of the Fiber Arts, building the community through collaborative efforts and fostering economic sustainability.
Nestled in the heart of the Española Valley, the center operates as a tax-exempt nonprofit membership organization with 501(c)(3) status. Its mission is to cultivate and support multi-generational participation in local, traditional and contemporary Fiber Arts.
EVFAC is a unique resource for fiber artists and those who find beauty in the Fiber Arts.
Whether you are passing through or live in the area, make sure that you stop by and you will enter a world of looms, colorful yarns, beautiful handmade textiles, books, supplies and much more. COME VISIT - SHOP - ENGAGE!
KEYWORDS: Española, Fiber Arts, Weaving, Textiles, Arts, Fashion