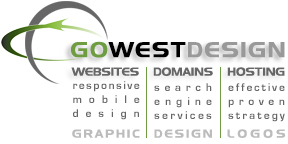 Santa Fe Region

GO WEST DESIGN

Category
Professional Services
Contacts
Stephanie West Owner
Location
150 Washington Ave., Santa Fe, NM
87501
Website
https://gowestdesign.com
Hours
Mon.-Fri., 9 am-5 pm
Make lasting impressions, connect and communicate BEAUTIFULLY. We are results-oriented marketing, highly skilled in online and printed communications. Our research on user behavior helps our clients focus on their target market. The industry term for this is SEO and SEM, search engine insights, optimization and marketing. Our web design, YouTube video production, e-mail marketing and social media help our clients grow. If you are a new business, we also offer logo design, branding and other printed collaterals - even signage!
KEYWORDS: website design, graphic design, search engine marketing