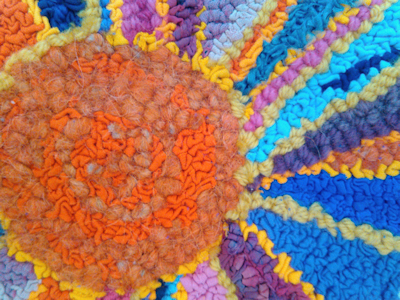 Albuquerque Region

High on Hooking

Category
Consumer Goods and Services
Contacts
Laura Salamy Fiber Artist
Location
4615 Almeria Dr. NW
Albuquerque, NM 87120
Website
https://highonhooking.com/
Hours
Call for an appointment.
Here at High on Hooking we do "less than traditional" rug hooking. That is, the mats and rugs aren't necessarily fashioned using only woolen strips or yarn. I prefer to use old textiles (especially old t-shirts and bed sheets!), funky fabrics, and notions like yarns and ribbon. Cutting cloth strips by hand to a fairly broad width gives each mat a bit of a rustic and bulky charm, creating something you can really sink your toes into.
Current work includes rugs, table mats and runners, pillows, bench covers, and wall hangings. Suitability for use as a rug on the floor depends on the materials used to hook the piece. I produce my own designs, but can also work from a customer's drawing or idea.
KEYWORDS: fiber art, recycled art, recycled fiberart, hooked art, hooked rugs, rug hooking, home decor, custom art, rugs, wall hangings, table runners, handmade, folk art, art, New Mexico art, New Mexico fiber art