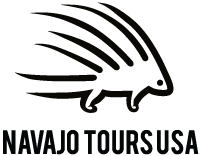 Farmington Region

Navajo Tours USA

Category
Outdoor Adventures
Contacts
Kialo Winters Owner
Location
Nageezi, New Mexico 87037
Website
https://navajotoursusa.com
Hours
Mon.-Sun., 8:00 a.m. - 5:00 p.m.
Navajo Tours USA is an outdoor adventure company serving photographers, couples and small groups. We guide travel guests on walking tours into the Bisti badlands, Chaco Culture National Historical Park and the Navajo Nation reservation. We share indigenous history, tread with safety and experience with purpose and respect.
Founded by Kialo Winters (Navajo/Zia Pueblo) & Terri Winters (Navajo), our mission is to share culture and beautiful landscapes on both the Navajo Nation reservation and New Mexico while honoring our traditional values that include advocating environmental protection and preserving our Navajo way of life.
Connect with us today at info@navajotoursusa.com and let's plan an adventure for our travel guests.
KEYWORDS: cultural tours, photography tours, day hikes