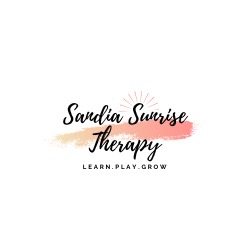 Albuquerque Region

Sandia Sunrise Therapy LLC

Category
Health Care
Contacts
Melissa Esquibel Business Administrator/Co-Founder Dr. Heather Armijo Physical Therapist/Co-Founder Teresa Ziomek Occupational Therapist/Co-Founder Oksana Tretiak Occupational Therapist/Co-Founder
Location
9550 San Mateo Blvd NE
Suite A
87113
Website
https://www.sandiasunrisetherapy.com
Hours
Mon.-Fri., 8:00 a.m.- 5:00 p.m.
At Sandia Sunrise Therapy, we are committed to providing quality, compassionate, and comprehensive care through an inter-disciplinary and family-centered approach. Utilizing evidence-based practice, we strive to enhance quality of life and participation in everyday life activities. We provide Physical and Occupational Developmental Therapy for ages 0-21 years of age and Orthopedic Physical Therapy services for ages 15 years of age and up. Our therapists specialize in: DIR-Floortime for Autism, Trauma, Pediatric Pelvic Floor, Muscular Dystrophy, Aquatic Therapy, Sensory Processing and Integration, and Regulation.
KEYWORDS: Early Intervention Pediatrics Children Kids Teens Young Adults Rehabilitation Social Emotional Play Self-care